Tree Service in Fort Myers, FL
At Doupe Tree Service, customer satisfaction is our number one priority. We offer professional expertise for tree trimming, tree removal, stump grinding and more. Our knowledgeable staff is happy to provide a free estimate for any tree service you need.
Learn More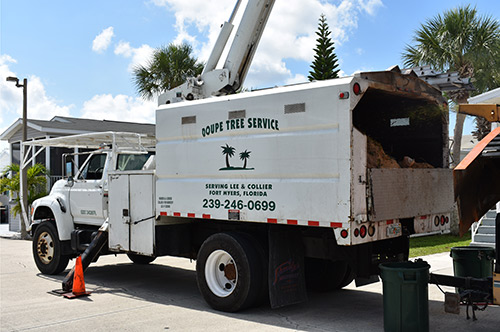 Doupe Tree Service is an expert when it comes to professional tree services in Fort Myers, FL area. We are a fully licensed tree service company that has been offering expert service throughout the region since 2010. Our customers know they can count on us to get the job done right. Locally owned and operated, we offer quality work at reasonable prices, bringing your trees back to prime health by trimming and pruning. Our services include both residential and commercial settings. We also offer emergency tree removal services. From minor hedge trimming to major tractor work, Doupe Tree Service is here to help. We are proud to be a part of our community, and our service reflects our customer-centric approach by providing exceptional tree services in Fort Myers, FL area. With each job, we focus on safety, quality and customer satisfaction. Doupe Tree Service invites you to take advantage of our many service benefits:
We are a veteran owned and operated local company.
Our comprehensive services cover all your tree service needs.
We offer free estimates on all of our services to prospective customers.
We accept all types of payments including cash, card, and checks.
Fully Licensed and Insured Professional Tree Services Include the Following:
Tree Trimming
Tree Pruning
Tree Removal
Stump Grinding
Shrub or Hedge Trimming
Shrub or Hedge Removal
Brush Hauling
Lot Clearing
Tractor Services
Proudly offering tree care services and tree removal to the following areas:
Fort Myers, FL
Cape Coral, FL
Lehigh Acres, FL
Estero, FL
Page Park, FL
Villas, FL
Cypress Lake , FL
Harlem Heights, FL
Ions, FL
Whiskey Creey, FL
Gateway, FL
Buckingham, FL
Tice, FL
San Carlos Park, FL
McGregor, FL
Fort Myers Shores, FL
Lee County, FL